MLRI: Immigrants and Public Benefits
Basic Public Benefits Advocacy Trainings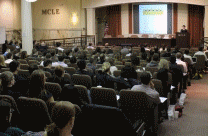 Product Number: 2230089P01
CLE Credits, earn up to:
4.5 substantive credits, 0 ethics credits

CLE Credit Note

Add to Favorites List

Remind Me Later

ⓘ

Sign up to receive a reminder one week prior to program.
Interested in MLRI: Immigrants and Public Benefits but not sure you can make it?
Sign up to receive an automatic reminder one week before the program date.
Email
No Thanks.Submit
Product Description
Faculty
Pricing
Product Description

Product Description

MCLE is pleased to offer this program to an in-person audience in our Boston conference center in addition to the live and recorded webcasts. Masks are encouraged.

This all-day training offers the nuts-and-bolts on how immigration status affects eligibility for state and federal public benefits.

In the morning, you get an overview of how immigrants obtain legal status, how to read immigration documents in order to understand their legal status, any recent changes during the Biden Administration regarding new immigration statuses, the Administration's change in the "public charge" rules and any subsequent federal guidance issued. You also learn from health law experts about MassHealth and other subsidized health care programs available to immigrants and their dependents.

In the afternoon, you hear from benefits experts about other public benefits potentially available to low-income legal immigrants including: state and federal subsidized housing programs, emergency shelter, cash assistance (TAFDC and EAEDC) and the federal SNAP and child nutrition programs.

Faculty

Pricing

Fees

$35.00 - Legal Services Attorney
$35.00 - Nonlawyer Advocates
$125.00 - All Others

To apply for a need-based scholarship for this program, email

scholarships@mcle.org

.
TOP