24th Annual Environmental, Land Use & Energy Law Conference 2023
Comprehensive coverage and updates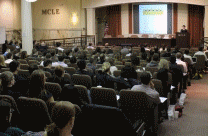 Product Number: 2230127P01
CLE Credits, earn up to:
6 substantive credits, 0 ethics credits

CLE Credit Note

Add to Favorites List
Product Description
Agenda & Materials
Faculty
Pricing
Product Description

Product Description

Serious environmental and land use lawyers and litigators know that MCLE's Annual Environmental, Land Use & Energy Law Conference is "the place to be" on March 30th. Learn what happened in federal and state legislatures, agencies, and courts, and in Massachusetts municipal law. Find out what you need to know for your clients and career—and catch up on what you missed this year.

The panelists survey the critical new developments in each of the major fields of environmental law, energy law, land use, and related litigation. For those who have attended in prior years, attending annually refreshes your knowledge and helps keep you up-to-date on the latest developments. And for those new to the Conference, attending is a great way to broaden and deepen your knowledge by learning from experts who have been tracking the trends, cases, and statutory changes.

Agenda

Agenda & Materials

9:00 - 9:05 am

Welcome and Introduction

9:05 - 11:05 am

Survey of Cases: Significant Jurisprudence for Massachusetts Attorneys

Environmental Permitting Litigation

Subdivision, Zoning, and 40B Cases

11:05 - 11:15 am

11:15 - 12:15 pm

Government Updates: U.S. Environmental Protection Agency and Massachusetts Department of Environmental Protection

EPA Update

12:15 - 1:15 pm

1:15 - 1:35 pm

Featured Speaker: Recent Passage of the Public Lands Protection Act and Other Significant Legislative Initiatives

1:35 - 2:00 pm

Public Lands Preservation Act Codifies EOEEA Policy and Article 97 "No Net Loss:"

A Close Look at the PLPA, New EEA Portal, and EEA Guidelines Now in Effect

2:00 - 2:50 pm

Energy Law: Incentives, Standards and Siting Issues for Clean Energy Projects

2:50 - 3:00 pm

3:00 - 4:30 pm

Significant Evolving Practice Areas

Historic Preservation and Community Housing

Please Note

MCLE webcasts are delivered completely online, underscoring their convenience and appeal. There are no published print materials. All written materials are available electronically only. They are posted 24 hours prior to the program and can be accessed, downloaded, or printed from your computer.

Faculty

Pricing

Fees

$247.50 - MCLE Sponsor Member
$137.50 - New Lawyer
$137.50 - Pending Admittee
$137.50 - Law Student
$137.50 - Paralegal
$275.00 - All Others

To apply for a need-based scholarship for this program, email

scholarships@mcle.org

.
TOP