Creating Condominiums
Drafting the master deed and operational provisions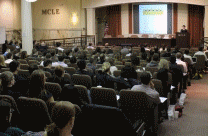 Product Number: 2230134P01
CLE Credits, earn up to:
3 substantive credits, 0 ethics credits

CLE Credit Note

Add to Favorites List
Product Description
Agenda & Materials
Faculty
Pricing
Product Description

Product Description

Condominiums are "creatures of statute". They are created pursuant to Massachusetts General Laws Chapter 183A and are governed by and operate according to their constituent documents. Massachusetts courts have deemed a condominium's constituent documents to be something more than a contract and, instead, akin to covenants running with the land. Since the constituent documents define and create the condominium, provide the operational policies and procedures thereof, and survive as provisions tantamount to covenants running with the land, the importance of drafting quality condominium documents cannot be overstated.

This new program provides guidance on drafting well-crafted master deeds and operational provisions for condominiums, including declarations of trusts and/or bylaws. The panel also identifies common pitfalls and traps in condominium document language, the problems caused by such language, and suggestions for remedying these provisions. Finally, attendees learn some of the most common issues that arise in the enforcement of condominium documents and the document language that can assist by providing procedures and resolutions.

Agenda

Agenda & Materials

2:00 - 2:05 pm

2:05 - 2:55 pm

Drafting Well-Crafted Condominium Documents

2:55 - 3:45 pm

Avoiding Pitfalls and Traps of Problematic Provisions

3:45 - 3:55 pm

3:55 - 4:45 pm

Common Enforcement Issues and the Document Language That Leads to Successful Results for Associations

4:45 - 5:00 pm

"Ask the Experts" Q&A Session

Panel


Please Note

MCLE webcasts are delivered completely online, underscoring their convenience and appeal. There are no published print materials. All written materials are available electronically only. They are posted 24 hours prior to the program and can be accessed, downloaded, or printed from your computer.

Faculty

Pricing

Fees

$220.50 - MCLE Sponsor Member
$122.50 - New Lawyer
$122.50 - Pending Admittee
$122.50 - Law Student
$122.50 - Paralegal
$245.00 - All Others

To apply for a need-based scholarship for this program, email

scholarships@mcle.org

.
TOP