Handling Real Estate Issues in Probate Estates
Practical guidance on what is required to sell, refinance, or vest real property from a decedent's estate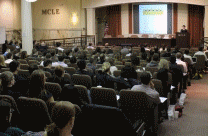 Product Number: 2230140P01
CLE Credits, earn up to:
3 substantive credits, 0 ethics credits

CLE Credit Note

Add to Favorites List

Remind Me Later

ⓘ

Sign up to receive a reminder one week prior to program.
Interested in Handling Real Estate Issues in Probate Estates but not sure you can make it?
Sign up to receive an automatic reminder one week before the program date.
Email
No Thanks.Submit
Product Description
Agenda & Materials
Faculty
Pricing
Product Description

Product Description

Representation of an estate in real estate transactions can present a host of issues and requirements. This new program reviews the fundamentals of conveyances by fiduciaries, devisees, and heirs at law—with a focus on formal versus informal probates, and deaths that occur pre-MUPC versus post-MUPC enactment.

Learn about the powers and limitations of the personal representative, as well as how to draft required documents and tips for avoiding common traps for the unwary. The expert faculty also explain how to solve title issues created by fiduciaries, devisees, and heirs at law who do not establish, or have not established, record authority for their action. Bring your questions to customize the dialogue!

Agenda

Agenda & Materials

How to File a Probate in 2023

How to File a Probate in 2023

Informal v. Formal Probates

Limits of Fiduciary Powers

Late and Limited Probates

Nominal Consideration Transfers

Massachusetts Health Liens

Claims of Legatees and Costs of Administration

"Ask the Experts" Q&A Session

Please Note

MCLE webcasts are delivered completely online, underscoring their convenience and appeal. There are no published print materials. All written materials are available electronically only. They are posted 24 hours prior to the program and can be accessed, downloaded, or printed from your computer.

Faculty

Pricing

Fees

$220.50 - MCLE Sponsor Member
$122.50 - New Lawyer
$122.50 - Pending Admittee
$122.50 - Law Student
$122.50 - Paralegal
$245.00 - All Others

To apply for a need-based scholarship for this program, email

scholarships@mcle.org

.
TOP