Spendthrift Trusts & Equitable Distribution of Assets in Divorce
Take a deep dive into the ever-growing body of case law, learn how to navigate the practical aspects of discovery, and upgrade your practice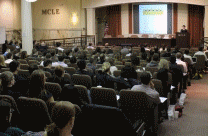 Product Number: 2230145P01
CLE Credits, earn up to:
1 substantive credits, 0 ethics credits

CLE Credit Note

Add to Favorites List
Product Description
Agenda & Materials
Faculty
Pricing
Product Description

Product Description

The only time a mother-in-law's two cents is wanted? In a divorce! That two cents and all the family's wealth, including those assets socked away in a spendthrift trust, seem to be fair game. The faculty discuss the considerable—and growing—case law governing third-party spendthrift trusts in the context of marital assets subject to equitable distribution, as well as the practical aspects of discovery, the Vaughn Affidavit, and "if and when" orders. This program is a must-attend for both estate planners and family lawyers!

Agenda

Agenda & Materials

Introduction to Third-Party Spendthrift Trusts

Pfannenstiehl, Levitan, and the Leading Marital Asset Cases

Decanting, Powell-Ferri, and the Disappearing Marital Assets

Discovery of Family Assets in Divorce and the Vaughn Affidavit

If and When Orders—Do They Work?

Expert Advice on Expert Witnesses

Prenuptials—The First Line of Defense: Best Practice for Disclosing a Spendthrift Trust

Please Note

MCLE webcasts are delivered completely online, underscoring their convenience and appeal. There are no published print materials. All written materials are available electronically only. They are posted 24 hours prior to the program and can be accessed, downloaded, or printed from your computer.

Faculty

Pricing

Fees

$130.50 - MCLE Sponsor Member
$72.50 - New Lawyer
$72.50 - Pending Admittee
$72.50 - Law Student
$72.50 - Paralegal
$145.00 - All Others

To apply for a need-based scholarship for this program, email

scholarships@mcle.org

.
TOP