Prosecuting & Defending Homicide Trials
Current scientific and social factors in homicide trials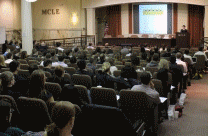 Product Number: 2230161P01
CLE Credits, earn up to:
6 substantive credits, 0 ethics credits

CLE Credit Note

Add to Favorites List
Product Description
Agenda & Materials
Faculty
Pricing
Product Description

Product Description

In your criminal law practice, the stakes are highest when homicide is the charge—a life has been lost. Another may face the strictest sentencing our legal system can impose. No matter which side of the counsel table you hail from—prosecution or defense—this program amps up your awareness of the most determinative scientific and social factors in homicide trials. Our panel brings you current on what is happening in Massachusetts courts on both fronts. They present cresting case law, discuss cold cases, examine crime scene analysis and reconstruction, and delves into surveillance and technology. The program provides guidance on attacking an expert witness and reviews gang evidence in murder cases. You come away from this program savvier, more aware, and more knowledgeable.

Raise your homicide practice to a higher level.

Agenda

Agenda & Materials

9:00am - 9:05am

9:05am - 10:15am

Prior Bad Acts/State of Mind Evidence

10:15am - 11:10am

Crime Scene Analysis and Reconstruction

Brian Cunningham, Massachusetts Department of State Police, Forensic Services Group , Maynard
Mark W. Shea, Esq., Shea & LaRocque , Cambridge


11:10am - 11:20am

Networking and Refreshment Break

11:20am - 12:10pm

Gang Evidence in Murder Cases

12:10pm - 1:00pm

1:00pm - 2:00pm

2:00pm - 3:10pm

Expert Witness Testimony

Hon. Heidi E. Brieger,

Superior Court, Commonwealth of Massachusetts , Boston

Kate B. MacDougall, Esq., Essex District Attorney's Office, Commonwealth of Massachusetts

, Salem

Austin C. Tzeng, Esq.,

Law Office of Austin C. Tzeng , Quincy

3:10pm - 4:00pm

Surveillance and Technology in Criminal Cases

4:00pm - 4:30pm

"Ask the Experts" Q&A Session and Key Takeaways

Please Note

MCLE webcasts are delivered completely online, underscoring their convenience and appeal. There are no published print materials. All written materials are available electronically only. They are posted 24 hours prior to the program and can be accessed, downloaded, or printed from your computer.

Faculty

Pricing

Fees

$175.50 - MCLE Sponsor Member
$97.50 - New Lawyer
$97.50 - Pending Admittee
$97.50 - Law Student
$97.50 - Paralegal
$195.00 - All Others

To apply for a need-based scholarship for this program, email

scholarships@mcle.org

.
TOP