Family Law Trial Advocacy Workshop 2023
Five days—one trial—countless trial skills learned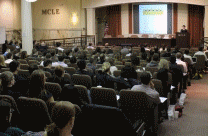 Product Number: 2230170P01
CLE Credits, earn up to:
30 substantive credits, 0 ethics credits

CLE Credit Note

Add to Favorites List

Remind Me Later

ⓘ

Sign up to receive a reminder one week prior to program.
Interested in Family Law Trial Advocacy Workshop 2023 but not sure you can make it?
Sign up to receive an automatic reminder one week before the program date.
Email
No Thanks.Submit
Product Description
Faculty
Pricing
Product Description

Product Description

This intensely challenging course gets you "on your feet" under the rigorous scrutiny of judges and leading practitioners. Join the scores of divorce lawyers who have polished their courtroom efficacy in this Workshop's supportive environment, learning trial advocacy from motion practice—to expert witness examination—to final argument. You won't find another training experience quite like this one. In each class session, you perform as trial counsel in phases of an ongoing trial. Day 1 begins with admitting exhibits and demonstrative evidence. By Day 4, you're examining actual real estate and psychological experts.

Throughout the week, you observe expert domestic relations practitioners demonstrate effective trial techniques. Between "courtroom" performances, the faculty lectures on family law trial topics. On the final day of this intensive experience, you're the leading counsel in a full-blown divorce trial. All the skills you learned during the week are on display before a Probate and Family Court judge, who concludes the session with a frank, no-holds-barred critique of your trial performance and newly-found advocacy skills.

Open to lawyers only, this program gives you a newfound confidence in yourself.

Registration Notes:

Space is limited and is available on a first come, first served basis. Cancellations may only be refunded, minus a $100 processing fee if we are able to fill your seat.

This limited-enrollment program is not included in the MCLE OnlinePass.

Materials:

The materials for this program include MCLE's Massachusetts Courtroom Advocacy, as well as a faculty-prepared program book of Workshop materials, and a handout of exercises and directions, distributed approximately one week prior to the workshop so you have time to prepare.

Faculty

Pricing

Fees

$1,345.50 - MCLE Sponsor Member
$1,121.25 - New Lawyer
$1,121.25 - Pending Admittee
$1,495.00 - All Others

To apply for a need-based scholarship for this program, email

scholarships@mcle.org

.
TOP