Filing for Guardianship of Minor Children & Removal of a Guardian
Legal standards and process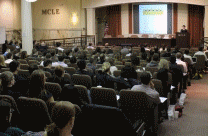 Product Number: 2230177P01
CLE Credits, earn up to:
3 substantive credits, 0 ethics credits

CLE Credit Note

Add to Favorites List
Product Description
Agenda & Materials
Faculty
Pricing
Product Description

Product Description

Guardianship of a minor is a legal process that gives an adult who is not the child's parent authority to care for and to make decisions on behalf of the child. A parent who consents to a guardianship has not necessarily given up all parental rights. The child's legal parents typically retain the obligation to financially support their child and can normally terminate the guardianship at any time. Removal of a guardianship occurs when one or both of the parents is no longer unfit to care for the child and can resume their caretaking role.

Join our experts to learn the legal standard and detailed process for obtaining and removing guardianship of a minor.

Agenda

Agenda & Materials

What Is a Guardianship of a Minor and How It Differs from Guardianship of an Incapacitated Adult

Standards for Guardianship and When a Guardianship Is Appropriate

Procedure for Filing and Obtaining Guardianship of a Minor

Standard for Guardianship Removal

Procedure for Filing and Removing Guardianship of a Minor

"Ask the Experts" Q&A Session

Please Note

MCLE webcasts are delivered completely online, underscoring their convenience and appeal. There are no published print materials. All written materials are available electronically only. They are posted 24 hours prior to the program and can be accessed, downloaded, or printed from your computer.

Faculty

Pricing

Fees

$202.50 - MCLE Sponsor Member
$112.50 - New Lawyer
$112.50 - Pending Admittee
$112.50 - Law Student
$112.50 - Paralegal
$225.00 - All Others

To apply for a need-based scholarship for this program, email

scholarships@mcle.org

.
TOP