23rd Annual School Law Conference 2023
The latest practical insight on issues affecting schools, educators, students, and parents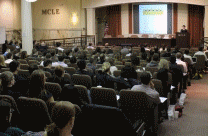 Product Number: 2230184P01
CLE Credits, earn up to:
5.5 substantive credits, 0 ethics credits

CLE Credit Note

Add to Favorites List

Remind Me Later

ⓘ

Sign up to receive a reminder one week prior to program.
Interested in 23rd Annual School Law Conference 2023 but not sure you can make it?
Sign up to receive an automatic reminder one week before the program date.
Email
No Thanks.Submit
Product Description
Agenda & Materials
Faculty
Pricing
Product Description

Product Description

MCLE is pleased to offer this program to an in-person audience at our Boston conference center in addition to the live and recorded webcasts. Masks are encouraged.

School law is a comprehensive, constantly evolving world at any time—but especially so now, as schools, families, and regulatory agencies struggle to cope with the effects of the pandemic. Keeping up with the flood of new developments, both pandemic-related and otherwise, presents a greater challenge than ever for busy practitioners.

MCLE's 23rd Annual School Law Conference 2023 examines the latest transformations and trends in school-related laws, regulations, policies, and practices. Experienced attorneys and other school-related professionals distill the most significant updates of the preceding year into a single day of front-line practical information and lively discussion. The Conference offers a comprehensive review of developments in the law through court cases, BSEA decisions, legislation, and regulatory changes. Hear seasoned attorneys offer up-to-date advice on cutting-edge topics (and this year, enjoy the opportunity to network in person). Whether you represent school districts, school employees, or parents and students, the Conference is a necessity for your practice.

Agenda

Agenda & Materials

Essential Education Opinions: 25 Key Cases Every Massachusetts Education Attorney Needs to Know—and How to Use Them

Section 504 and Student Discipline: Recent OSERS Guidance and Beyond

Education Law Update 2023: The Latest from the BSEA, Courts, Legislature, DESE, and USDOE

"Hot Topics" for 2023

Including new MIAA rules for student athletes; Proposed Title IX regulation changes; OSEP guidance as to qualifications of special education personnel; Proposed legislation regarding the right of dually eligible ("twice-exceptional") gifted students with disabilities

"Ask the Experts" Q&A Session

Please Note

MCLE webcasts are delivered completely online, underscoring their convenience and appeal. There are no published print materials. All written materials are available electronically only. They are posted 24 hours prior to the program and can be accessed, downloaded, or printed from your computer.

Faculty

Pricing

Fees

$247.50 - MCLE Sponsor Member
$137.50 - New Lawyer
$137.50 - Pending Admittee
$137.50 - Law Student
$137.50 - Paralegal
$275.00 - All Others

To apply for a need-based scholarship for this program, email

scholarships@mcle.org

.
TOP