10th Annual Legal Services Conference 2023
Movement lawyering to advance social change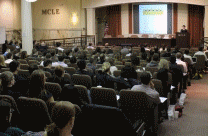 Product Number: 2230187P01
CLE Credits, earn up to:
4 substantive credits, 0 ethics credits

CLE Credit Note

Add to Favorites List

Remind Me Later

ⓘ

Sign up to receive a reminder one week prior to program.
Interested in 10th Annual Legal Services Conference 2023 but not sure you can make it?
Sign up to receive an automatic reminder one week before the program date.
Email
No Thanks.Submit
Product Description
Agenda & Materials
Faculty
Pricing
Product Description

Product Description

MCLE is pleased to present its 10th Annual Legal Services Conference, which brings together members of the Massachusetts legal services community for a half-day of learning. This year's Conference focuses on movement lawyering. We are discussing community-driven advocacy to advance systemic change and racial justice.

Legal services advocates provide high-quality legal services for people with low incomes and populations that have been systemically marginalized. They also work to achieve equity for people living in poverty. Effective advocacy attacks the root causes of poverty, which includes the racialized history of institutions and structures. Movement lawyering empowers legal services advocates to take direction from the communities and people most affected by unjust structures and support them as they build power in their communities.

At this Conference you learn about the history and concepts behind movement lawyering; hear from different types of community organizations; learn about some of the challenges and rewards of movement lawyering; and get practical, actionable tools to begin applying these tactics in your work.

You don't want to miss this opportunity to hear from your colleagues, learn from existing challenges, and gain practical knowledge to effectively work with your community.

Stay tuned for updates to the list of participating faculty as the Conference date gets closer!

Agenda

Agenda & Materials

Keynote Address by Lisa L. Owens of the Hyams Foundation

Setting the Table: Defining Movement Lawyering

Panel Discussions: Stories and Examples from the Community; Challenges and Strategies

How Do I Do Movement Lawyering? How to Start, Organizational Approaches, and Tips

Please Note

MCLE webcasts are delivered completely online, underscoring their convenience and appeal. There are no published print materials. All written materials are available electronically only. They are posted 24 hours prior to the program and can be accessed, downloaded, or printed from your computer.

Faculty

Pricing

Fees

$35.00 - MCLE Sponsor Member
$35.00 - New Lawyer
$35.00 - Pending Admittee
$35.00 - Law Student
$35.00 - All Others

To apply for a need-based scholarship for this program, email

scholarships@mcle.org

.
TOP