Trial Advocacy Workshop 2023
Initiation rite for rising and determined trial lawyers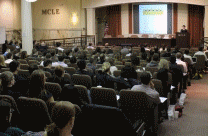 Product Number: 2230193P01
CLE Credits, earn up to:
40 substantive credits, 0 ethics credits

CLE Credit Note

Add to Favorites List

Remind Me Later

ⓘ

Sign up to receive a reminder one week prior to program.
Interested in Trial Advocacy Workshop 2023 but not sure you can make it?
Sign up to receive an automatic reminder one week before the program date.
Email
No Thanks.Submit
Product Description
Faculty
Pricing
Product Description

Product Description

Five intense days of personalized, comprehensive training provide you with fundamental courtroom skills from several venerable judges and experienced practitioners. This intense, rigorous, and challenging Workshop—as many of the state's best trial lawyers attest—is vital for eager trial attorneys entering practice and for those who want to brush up on their trial skills.

Spend the week "on your feet," arguing, questioning, and developing your skills in a mock trial setting. From opening statements to closing arguments, direct and cross examinations, expert witnesses, and eyewitnesses, improve your trial techniques under the close scrutiny of trial judges and leading attorneys. Most of your trial performance is videorecorded, so you can watch yourself in action throughout the day and receive constructive feedback from multiple faculty members, including judges. The tips, videos, demonstrations, lectures, and group discussions throughout the Workshop culminate with a full jury trial on the final day. After your performance, you watch a live jury deliberation via closed-circuit TV before the verdict is delivered. This Workshop is your chance to hear what the mock jury thought of your skills, arguments, and courtroom demeanor. Supportive critique continues even after the trial as the presiding judge gives you unique, personalized feedback on your efficacy. You emerge with well-honed trial skills and the ability to face your first—or next—jury trial with confidence.

This Workshop features distinguished trial court judges, expert litigators, and experienced lawyers who share their deep knowledge of trial practice, along with their practical and encouraging critique, as your personal mentors throughout the week. Networking opportunities continue at the closing reception, with both students and faculty attending. You leave this Workshop with a sense of accomplishment along with greater confidence in your new-found trial practice skills.

Registration Notes:

Space is limited and is available on a first come, first served basis. Registration by Wednesday, June 21, 2023 is highly encouraged. Persons who register by that date will be mailed the special Workshop materials. If you wish to register after June 30, please first contact MCLE's Customer Service Department at 617-482-2205.

Cancellations may only be refunded, minus a $100 processing fee if we are able to fill your seat.

You're encouraged to bring one or two volunteer jurors with you to MCLE on the final day of the Workshop; it's a fun learing experience for them as well! Jurors need not be lawyers or law students and no advance preparation is necessary.

This limited-enrollment program is not included in the MCLE OnlinePass.

Faculty

Pricing

Fees

$1,345.50 - MCLE Sponsor Member
$1,121.25 - New Lawyer
$1,121.25 - Pending Admittee
$1,495.00 - All Others

To apply for a need-based scholarship for this program, email

scholarships@mcle.org

.
TOP