Making Objections Workshop 2023
On-your-feet training on when to object—and when to stay silent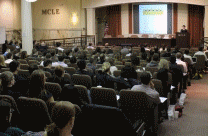 Product Number: 2230197P01
CLE Credits, earn up to:
5 substantive credits, 0 ethics credits

CLE Credit Note

Add to Favorites List

Remind Me Later

ⓘ

Sign up to receive a reminder one week prior to program.
Interested in Making Objections Workshop 2023 but not sure you can make it?
Sign up to receive an automatic reminder one week before the program date.
Email
No Thanks.Submit
Product Description
Agenda & Materials
Faculty
Pricing
Product Description

Product Description




MCLE is pleased to offer this program to an in-person audience at our Boston conference center in addition to the live and recorded webcasts. Masks are encouraged.

Knowing when to make objections, and how to support and oppose them, is a vital courtroom skill. Equally important is knowing when to keep silent. In this program, expert litigators teach you not only how to understand the proper grounds for making objections—and how to effectively argue and oppose them—but also how to decide when it is in your best interests to do so. Select this workshop's in-person Boston option for the exclusive opportunity to test your knowledge in a mock courtroom setting, where you can try out the skills you have learned and get essential feedback on your performance.

Agenda

Agenda & Materials

12:00pm - 12:05pm

Welcome and Introduction

12:05pm - 12:35pm

An Overview of Making Objections

12:35pm - 12:50pm

Business Records, Improper Arguments & Experts

12:50pm - 1:10pm

1:10pm - 1:35pm

1:35pm - 1:45pm

1:45pm - 1:50pm

Review of the Fact Pattern

1:50pm - 2:05pm

2:05pm - 5:00pm

"On Your Feet" Mock Objections With Registrant

Please Note

MCLE webcasts are delivered completely online, underscoring their convenience and appeal. There are no published print materials. All written materials are available electronically only. They are posted 24 hours prior to the program and can be accessed, downloaded, or printed from your computer.

Faculty

Pricing

Fees

$220.50 - MCLE Sponsor Member
$122.50 - New Lawyer
$122.50 - Pending Admittee
$122.50 - Law Student
$122.50 - Paralegal
$245.00 - All Others

To apply for a need-based scholarship for this program, email

scholarships@mcle.org

.
TOP