Keys to Deposing a Corporation
Requirements, process, best practices and pitfalls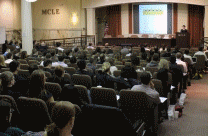 Product Number: 2230200P01
CLE Credits, earn up to:
2 substantive credits, 0.5 ethics credits

CLE Credit Note

Add to Favorites List
Product Description
Agenda & Materials
Faculty
Pricing
Product Description

Product Description

Under state or federal rules of civil procedure, parties have the opportunity to depose corporate entities in addition to individuals. Depositions of corporations entail special, and sometimes complex, considerations for both examining and defending attorneys. These complexities including effectively defining the topics for the deposition, finding one or more appropriate witnesses, and policing the line between personal and corporate knowledge.

Join our experts as we walk through Rule 30(b)(6)'s requirements, the deposition process, and explore pitfalls and best practices to prepare you for your next corporate deposition.

Agenda

Agenda & Materials

2:00pm - 2:05pm

2:05pm - 2:20pm

Rule 30(b)(6) and Its Requirements

2:20pm - 2:35pm

Defining the Topics

Panel


2:35pm - 2:50pm

Choosing the Deponent(s)

Panel


2:50pm - 3:05pm

Examining the Witness

Panel


3:05pm - 3:20pm

Preparing and Defending the Witness

Panel


3:20pm - 3:35pm

3:35pm - 3:50pm

3:50pm - 4:00pm

"Ask the Experts" Q&A Session

Please Note

MCLE webcasts are delivered completely online, underscoring their convenience and appeal. There are no published print materials. All written materials are available electronically only. They are posted 24 hours prior to the program and can be accessed, downloaded, or printed from your computer.

Faculty

Pricing

Fees

$148.50 - MCLE Sponsor Member
$82.50 - New Lawyer
$82.50 - Pending Admittee
$82.50 - Law Student
$82.50 - Paralegal
$165.00 - All Others

To apply for a need-based scholarship for this program, email

scholarships@mcle.org

.
TOP