Taking Remote Depositions Interactive Workshop 2023
Play the role of counsel in mock exercises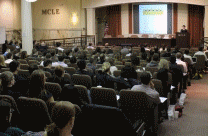 Product Number: 2230219P01
CLE Credits, earn up to:
5 substantive credits, 0 ethics credits

CLE Credit Note

Add to Favorites List

Remind Me Later

ⓘ

Sign up to receive a reminder one week prior to program.
Interested in Taking Remote Depositions Interactive Workshop 2023 but not sure you can make it?
Sign up to receive an automatic reminder one week before the program date.
Email
No Thanks.Submit
Product Description
Faculty
Pricing
Product Description

Product Description

*This workshop will be held online via Zoom. Due to MCLE's website infrastructure, there is no specific Zoom option to select. Instead, choose the in-person program option to, in fact, register for the Zoom session. Prior to the program, registrants will receive an email with login information and instructions for the virtual session.*

*This limited enrollment program is not included in the MCLE OnlinePass.*

MCLE's Taking Remote Depositions Interactive Workshop is a unique opportunity for both experienced attorneys and those with little or no experience in handling depositions to learn how to prepare for, take, and defend depositions remotely.

In this "interactive" program, you play the role of counsel in mock exercises that require you to use advanced Zoom features and your performance is immediately critiqued by faculty in small groups. You have the opportunity to upload and share documents that are marked as deposition exhibits. You also annotate documents with the assistance of stenographers who have experience in reporting remote depositions via Zoom.

Pre-workshop preparation is required for this fast-paced program and ensures that you maximize the learning experience for yourself and other registrants.

Special workshop materials and preparation

You receive workshop materials, including simulation exercises, approximately one week prior to the workshop so that you may prepare. The agenda does not allow for any student preparation on the day of the seminar. Students should plan to spend approximately two hours reviewing the materials and preparing deposition questions in advance.

Tips and pointers for key steps

Starting a Deposition—Stipulations and Planning for Remote Depositions
Questioning Witnesses Remotely Using Documents
Making Effective Use of Stenographers
Deposing a Witness on Social Media and e-Documents
Marking Documents in Remote Depositions with the Assistance of a Stenographer
Annotating Documents in a Remote Deposition and Marking Chalks
Making Objections and Reacting to Those of Opposing Counsel

Materials

The materials for this program will be shipped to you one week before the program date. Please contact Customer Service to confirm that the address you have listed is the address where you would like the program materials shipped.

Registration is limited! Sign up today!

Faculty

Pricing

Fees

$265.50 - MCLE Sponsor Member
$147.50 - New Lawyer
$147.50 - Pending Admittee
$147.50 - Law Student
$147.50 - Paralegal
$295.00 - All Others

To apply for a need-based scholarship for this program, email

scholarships@mcle.org

.
TOP