Game-Changing Impact of Cavanagh on Determining Child Support & Alimony
Making sense of an upended landscape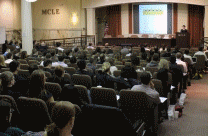 Product Number: 2230225P01
CLE Credits, earn up to:
4 substantive credits, 0 ethics credits

CLE Credit Note

Add to Favorites List

Remind Me Later

ⓘ

Sign up to receive a reminder one week prior to program.
Interested in Game-Changing Impact of Cavanagh on Determining Child Support & Alimony but not sure you can make it?
Sign up to receive an automatic reminder one week before the program date.
Email
No Thanks.Submit
Product Description
Agenda & Materials
Faculty
Pricing
Product Description

Product Description


The Supreme Judicial Court's momentous decision in Cavanagh v. Cavanagh interpreting the Massachusetts Alimony Reform Act creates far-reaching changes to how family law judges are to assess whether to award child support or alimony in divorce cases. The court's opinion not only imposes a new three-step analysis for determining whether to award alimony or child support, but also impacts the scope of permissible spousal testimony, and what is considered income for purposes of child support and alimony.

Join our panel of family law experts to assess best practices moving forward in the wake of the SJC's landmark decision.

Agenda

Agenda & Materials

How Will Negotiated Settlements in Complex Divorce Cases Be Impacted by the Mandated Three-Step Analysis for Determining Whether to Award Child Support or Alimony?

How Will Family Law Judges Assess the Various Financial Issues Necessitated by the Court's Ruling?

What Is the Full Scope of the Contract Exception Permitting Spouses to Testify on Private Statements Concerning Potential Financial Obligations in the Context of Child Support and Alimony?

Will Waivers of Alimony in Separation Agreements Survive Going Forward?

Please Note

MCLE webcasts are delivered completely online, underscoring their convenience and appeal. There are no published print materials. All written materials are available electronically only. They are posted 24 hours prior to the program and can be accessed, downloaded, or printed from your computer.

Faculty

Pricing

Fees

$175.50 - MCLE Sponsor Member
$97.50 - New Lawyer
$97.50 - Pending Admittee
$97.50 - Law Student
$97.50 - Paralegal
$195.00 - All Others

To apply for a need-based scholarship for this program, email

scholarships@mcle.org

.
TOP